---
Howdy neighbor, we sure are glad you stopped by. How about pull up a chair, pour yourself a cup of coffee or a Soda Pop, and let's chat for a little spell. There are lots of things we would like to tell you about us so you will be more "at home" when you come to visit us at our location. Please forgive us if we brag a little, but we really do believe we have lots to offer. For one thing, we are not formal at all. As a matter of fact, we prefer to be more "casual" I suppose you would call it. Most of all, we want you to feel right "at home" when you come. We would like to shake your hand and welcome you to our service, so don't be surprised if several folks attempt to get to you right away to do just that!
So...how about this week-end? What are you to expect if you come to visit with us at Open Door Church? Well...how about this?
Casual atmosphere...we are more interested in YOU than your clothes.

A note of welcome...we really are glad you came...look out for a handshake.

And a visitor card...we would like to add you to our mailing list list...with your permission.

Announcements as to upcoming events.

Music and singing to include hymns and special songs by some of our folks...and visitors...and maybe even from a special group.

Early service...and at present...only one which begins at 10 AM.

Children from about age 10 and under will have their own time together with our teachers.

Time for fellowship after the service...if you like.

An honest invitation...we surely do want to see you again.

Don't forget Sunday evening service...it is at 6 PM.

In Progress on Sunday nights is a special Bible study, entitled "God's Plan for the Ages". It is a study with a focus on the dispensational view of Scripture...rightly dividing the word of truth. It will be a lengthy study, so we invite you to come and get involved. We do have study notes for a very nominal cost.
We are a new church to the area, "rookies" you might say, but most of us have been around for a while, and we felt the Lord leading us to begin a work that we could call "simply church". If you would like to say "amen" we want you to feel comfortable with that, and if you are the "quiet type" then that is perfectly all right as well. Just be yourself, that is what is important.
For another thing, we like a lot of prayer and Bible study. You will see that when you come to share a service with us. We can get emotional when we consider the most precious gift that our Savior has given us...and we can also sit in quiet contemplation about that as well.
There is something else you will find. The Bible is king at our place! We spend a lot time there...and we welcome you to come and share with us. And yes, we like music as well. Some would accuse us of being a tad-bit "old-fashioned" but that is ok with us...we do like the songs that speak of our Savior and things of heaven, but you come on over and see for yourself! I think you will be glad you did.
Did I say we welcome "casual"? Yes, I know...I do repeat myself some...but it is because we really want you to know that you are welcome at Open Door Baptist Church. We want to introduce you to our "best friend"...who is the Lord. And, if you already know him, then we invite you to worship with us, our awesome God. And, what a joy it will be for us to meet new friends!
By the way my friend, have you ever heard the story of the Savior? Click on the link below to find out more about Him.
Check out the verse for the day:
WE LOVE OUR VISITORS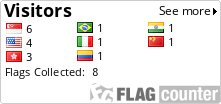 By the way neighbor, do you perhaps like old time gospel music? If you do, we would like to recommend a web site that we believe you will enjoy.
Old Time Christian Radio